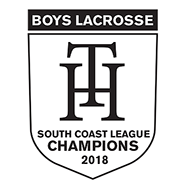 SIGN UP NOW FOR WINTER CAMP BELOW
2019 TRABUCO HILLS LACROSSE FINISHED 18-3, ENDS SEASON IN FIRST EVERY FINAL 4.
THHS LACROSSE
WINTER CAMP
DEC. 2ND - JAN. 31ST
M/W/F - 6:30PM - 8PM - STADIUM
T/TH - 7:30 - 8:30PM - WEIGHT RM
VARSITY
MONDAY - FRIDAY - 6:30 - 8:30PM - THHS STADIUM
JV
MONDAY - FRIDAY - 6:30 - 8:30PM - THHS STADIUM
RAIN OR SHINE
2019 Team Captains Announced - Jared Friesen, Holden Evans, AJ Switzer,
Justin Paget, Colin Seedorf & Max Wulterin
This is the official website of the Trabuco Hills High School lacrosse program. The program includes a Varsity, Junior Varsity and JV-B development team (10 players only). The Mustangs compete in the South Coast League in Orange County, CA.
Saddleback Valley Unified School District is committed to equal opportunity for all individuals in education. The district programs and activities shall be free from discrimination based on age, disability, gender, gender identity/expression, nationality, race or ethnicity, religion, sexual orientation, or association with a person or group with one or more of these actual or perceived characteristics equal rights and opportunities. Married, pregnant and parenting students shall have the same educational and extracurricular opportunities as all students. Expecting and parenting students retain the right to participate in any comprehensive school or educational alternative programs for which they would otherwise be eligible. The District shall promote programs that ensure that these discriminatory practices are eliminated in all District activities.